In this week's episode, Erik and Joe return after a brief summer break by taking a deep look at the Detroit Lions roster now and in the future. Using Erik's "Roster Stack", the guys separate the Lions' 91-man roster into the tiers to see how the roster is constructed with a long-term lens, as well as who the top-53 players are right now.
As always, the fellas don't script out the tiers ahead of time, instead making decisions on where players fit live on the show. This is done with the idea of presenting listeners with a behind-the-scenes look at how the process unfolds as well as the conversations had about controversial players.
At the end of this article, we will have an overview look (picture) at the completed roster stack Erik and Joe arrived upon. That way, you can have it up and follow along with the podcast – or if you don't want any spoilers – you can still have a visual to reference after listening to the episode.
Just a reminder, if you like our show you can subscribe using iTunes, Spotify, Google Play, Stitcher, Podbean, and more.
SPOILER ALERT BELOW
Here is an explanation of the categories with the results from the show:
Impact players: These are the players who if removed from the roster, would greatly impact the team's overall performance.
Core Players: These players make up the foundation of the team and have a significant weekly role on the roster.
Projected starters: The players in this section will either win a starting role or find a home as a reserve/role player and likely have an inside shot at the Lions' 53-man roster.
Role players: These players should feel comfortable with their role on the team based on their skill sets and the current level of competition from the other players at their position group.
Depth spots: The players in this section are the current leaders for the final roster spots but will be challenged by the players in the next two sections as things are far from settled.
On the Fringe: The players in this group will need some help in order to find their way onto the 53-man roster. They could either benefit from the Lions constructing the roster differently or they could beat one player ahead of them to move up a section.
Have work to do: These players found a spot on the 91-man roster due to their previous accomplishments but based on the other additions to the roster, they will have some work to do in the preseason if they hope to beat the odds and make the 53-man team.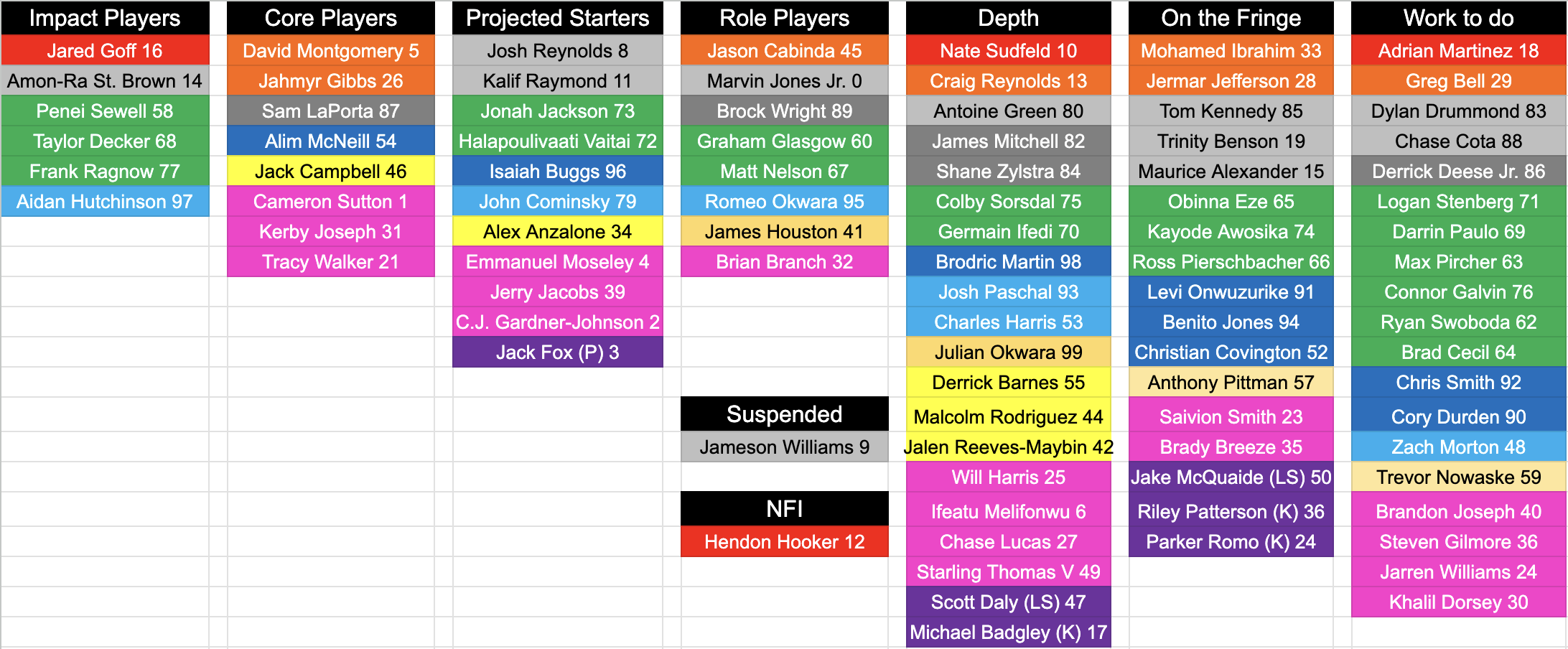 As always, thanks for listening. Tweet us @erikschlitt, @JoeKania_DLB, @lionsbreakdown.